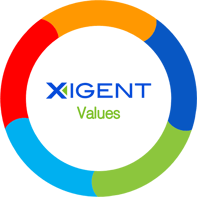 This page is dedicated to displaying our core values – five of them – which help to guide us collectively as a company each day in fulfilling our ultimate objective in providing truly exemplary customer service and putting those we work with on a path to improved outcomes through a consultative, result-driven approach to IT.

The Fire Within!
Drive continuous improvement and measurable value with a tenacious pursuit of excellence
• Work with a sense of passion and urgency
• Relentlessly pursue improvement and ongoing learning
• Set high and clear expectations for ourselves and others
• Perform with a can-do attitude

Be One Team
One team, One Goal = Greater Results
• Be a team player and collaborate with others toward common goals
• Acknowledge and share successes
• Be approachable and coachable
• Build communication skills and use these to garner shared understanding
• Bring a sense of humor and fun to the workplace with appropriate work-life balance

Build the "Wow"
Drive value through differentiating capabilities
• Develop methods and measures to improve outcome

• Simplify and make it easy for our clients to work with us
• Embrace and apply technology innovation
• Deliver the "Wow" in service excellence

Method over Madness
Operate freely within a culture of discipline
• Define, plan and focus on priorities

• Continuously improve and follow our processes to drive efficiency
• Accept responsibility and hold ourselves and others accountable
• Effectively manage personal time and be a good steward of resources
• Own, correct, share and learn from our mistakes