Thank you to all who attended!
Thursday, Oct. 3, 2019 | 3-7 pm | Lakes & Legends Brewing Co. | Minneapolis
In your position in the IT industry, you get lots of offers for events to attend, so let us tell you why this is an event worth attending. First we have made it as central as possible at the edge of downtown Minneapolis with free parking and at a time of day that allows you to skip rush hour - come before and leave after traffic. Second, we have selected a great taproom and one of the most recognized and awarded chef and catering services in the Midwest. But that's just the start, here are the other reasons to attend:
3. No Selling, Just Thanks
4. "Meat Fest" Station – ribs, brisket, and tenderloin
5. Seafood Station – oysters, crab claws and jumbo shrimp
6. Appetizer Station – Bacon tartlets, local cheese with rustic bread to heirloom tomato bruschetta
7. Mac & Cheese Station – Homemade cheese with build-your-own toppings
8. Dessert Station - Pastry chef-inspired creations
9. Handcrafted Cocktails and wine purveyor selected bottles
10. Local taproom selections of craft beer and tours with the Brewmaster
11. Mocktails, kombucha, and local soda
12. Bag toss and giant Jenga
13. Great prizes
14. Network with your peers
We said ten reasons, but there were too many to stop.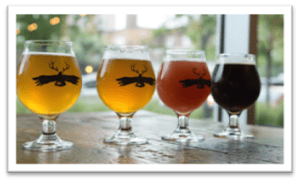 Lakes & Legends was born from the idea that craft beer from the North would raise the expectations and expand the possibilities of what you could get from a beer. They focus on high quality ingredients and spotlighting their farming partners wherever possible. Everything about Lakes & Legends – from the dreamy antique wood interior stylings, to the assortment of larger-than-life yard games, to the refreshing finish of their unique farm-inspired brews – will leave you buzzing.
Lakes & Legends has wasted no time in filling their trophy case in recent years, as their Barncat ale placed first in the Belgian Other category in the 2019 Brewers Cup Awards in April, and its Cool For The Summer saison won gold in the Field Beer category at the Great American Beer Festival September 2018. Lakes & Legends specializes in craft beers ranging from traditional styles to limited releases inspired by Minnesota farms, and is the first and only Minnesota Grown brewery partner in the state. Non-alcoholic refreshments will also offered, including Kombucha, mocktails, and local soda!
Award-Winning Catered Food Menu
Aside from Lakes & Legends' own delicious beer selection, we will have a large number of high-end food options for you to choose from. This event will be catered by our friends at Chowgirls Killer Catering, one of the most recognized and awarded chef and catering services in the Midwest! Here's a look at some of what we'll have at the event:

Event Location: Lakes & Legends Brewing Co. | 1368 Lasalle Ave, Minneapolis, MN 55403 | Parking Location: 1330 Nicollet Mall, Minneapolis, MN 55403